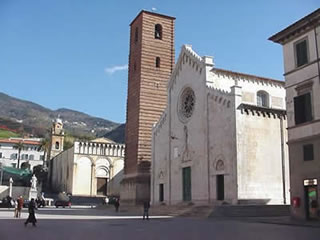 Pietrasanta
Pietrasanta and the arts: a historical couple
Founded in 1255, Pietrasanta has older roots. Of the ancient city walls remain today just a short line by the so-called Rocca Longobarda, a fortress of longobard origin, which dominates in a half embrace of the square and the city centre. The cathedral square is the linchpin of both artistic and mundane life: straight little pedestrian streets characterize the area all around where visitors have the chance to admire other historical buildings, such as the today desecrated S. Agostino church. Here the indoor part of all those art exhibitions beginning in the main square usually takes place.
The artistic side cannot be divided from the city itself, being actually a real link between past and present: numerous and historical sculpture studios are part of the city, while international artists usually choose this destination during and after their training in the artistic field. Obviously also the number of art galleries is quite high and their common mark is the quality of the aesthetic level.
http://www.pietrasanta.it/
Festival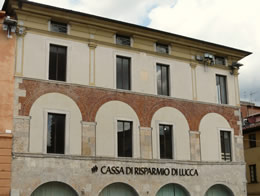 Palazzo Panichi
Built in the 15th century by Tommaso Panichi, Palazzo Panichi was subsequently owned by the Carli family. Over the years, it underwent several architectural modifications. Recently acquired by the city of Pietrasanta, it has been renovated and transformed in a museum dedicated to Padre Eugenio Barsanti, Father Scolopio and inventor of the internal combustion engine. Visit the museum and its relics, motors, documents and historical reconstructions.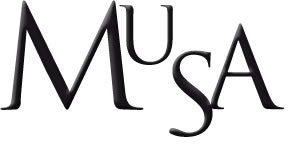 MuSA, virtual museum-space of sculpture and architecture
A project promoted by the Camera di Commercio of Lucca with the economic contribution of Regione Toscana and Fondazione Cassa di Risparmio of Lucca. A virtual as well as real museum-space with the purpose of promoting the region of Versilia and sustaining culture and productivity.

Visualizzazione ingrandita della mappa